I don't know about you, but its getting insanley hard to get a decent breakfast into my kids before school! Usually its something as simple as peanut butter toast. So I hoped on the make ahead breakfasts train and it has helped so much!
While I would love to make them a good, nutritious filled breakfast before school every morning, I usually wake up more exhausted than when I went to bed, (gotta love the 3rd trimester!), and frying an egg is as fancy as it gets.
Don't get me wrong, breakfasts DO NOT have to be fancy. Actually no meals need to be, but I do really try to make each meal nutritous, or at the very least I aim for 3 food groups.
Doing that for lunch, dinner and snacks is pretty simple, but when it comes to breakfast? Apparently impossible.
So I compiled all my favourite super easy make ahead breakfast ideas I could make with minimal effort, PLUS I made a list of all the 'convience' items I can add to the breakfast to make it more rounded. And today, I'm going to share that all with you!
A few tips to make breakfast prepping as simple as possible
Now keep in mind, I'm feeding 5 kids (plus us 2 adults) every day, 5x a day. So I'm probably prepping in alot bigger qauntities than you are.
Im also not making 10 snack boxes and storing them the fridge for convience. Now if you have 2 kids, GENIUS. But for me thatll last me one day, so its not worth it.
I like to make 10-15 of each thing I make and store it. Usually in the freezer. And on that note I prep 2 recipes for the week. That's it. I'm not prepping 3-5 different make-ahead recipes just for one week. That I'll only do before I'm expecting a baby so I can have my freezer stocked for a month.
If you're starting out (like I am) I really recommend this. Actually, even if you're seasoned at prepping, this is one thing that truly simplifies the process.
Do this one thing…
You'll spend 30 minutes prepping 2 different breakfasts (then you'll have cooking time yet) and then store them in the freezer. I can easily find 30 minutes somewhere during the. week to prep. But to find 1-2 hours to prep? That's basically non-existent.
So yes, my kids eat the same breakfast 2-3 times that week. Weekends are often cereal, or if I'm feeling really nice on a Saturday morning I'll make them pancakes or something.
BUT next week, it's a different 2 breakfasts that they are eating a couple of times so they aren't getting sick of it like if they were eating the same thing multiple times a week for a couple of weeks.
And this might make me super unpopular, but I DO NOT cater to my kids. I know what they like and don't like so I always keep that in mind, so if they decide that they don't like french toast today, well too bad too sad, that's what breakfast is.
My kids have grown up this way, we don't eat elaborate meals, we don't eat different things all the time. First, we can't afford that, and second, I don't want my kids 'spoiled' by always needing high-quality meals, because that also means I'll have to keep up that standard.
Convince Grab and Go Breakfast Foods you can Add
So here are some things that I add to breakfasts that are 'convenience' foods that I'll add to my main breakfast so make it more rounded, with 2-3 food groups without taking extra effort from me!
Fresh fruit
Yogurt
Freeze dried fruit
Frozen fruit (defrosted a little)
Apple sauce (or fruit pouch)
Cottage cheese
Dried sausage (or pepperoni)
Dry cereal
If you do have a little extra time, you can pre-cook a few breakfast meats so you can just warm them up in the microwave. Bake a pan of breakfast sausages or bacon, and then just warm them up in the microwave for a minute before serving them.
I'm going to give you little sample menu for what one week might look like, and then I'll give you all the recipes that I use to prep!
Sample Breakfast Meal Plan Menu
Sunday– Cereal
Monday-French Toast muffins with yogurt (I often add frozen fruit into the muffins before baking, or add some fresh before serving!)
Tuesday– Peanut Butter toast with Banana
Wednesday– Egg muffin on toasted english muffin
Thursday– French toast muffin with yogurt
Friday-Egg muffin on toasted english muffin
Saturday– Whatever is leftover from prepped breakfasts or cereal

Do yourself a favor mama, and stick to simple. That way not only will you actually be able to stick with it but it also makes it much less work for you- which means less overwhelm!!
Easy Recipes to Prep for Breakfast
Blueberry Breakfast Muffins
This muffin recipe is AMAZING. Yes, it says blueberry, BUT swap out the blueberries for strawberries or apples, even mashed banana! It's quick, and only makes one bowl dirty!
French Toast Muffins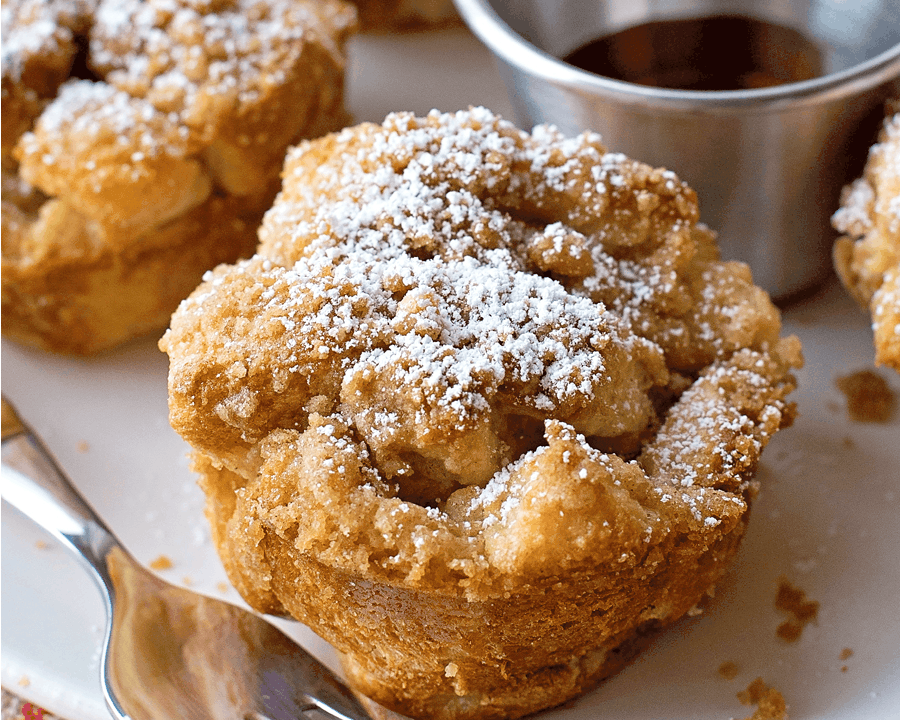 These french toast muffins take the best of both worlds. You get the amazing french toast casserole deliciousness, BUT they bake up way quicker, just as quick as a muffin instead of baking for an hour! And here too, use the same recipe every time, but add different toppings fruit like raspberries, strawberries, blueberries, or even just use jam! And use frozen fruit to save money.
Egg Muffins
These egg muffins, you guessed it are versatile too! Use different veggie combos (or just one veggie) like spinach, kale, peppers, celery. I almost always use deli meat as the meat inside of it(if I add it in) just to keep it simple and quick as possible!
Breakfast Burritos
This one takes a little more effort. But my boys LOVE this one! And I cook all the breakfast sausages in the oven at the same time to make it really simple. This one takes about 20 minutes to throw together instead of 10-15. Instead of making it into a burrito you can also chop up your sausage and then instead of rolling the wrap, fold it so you get a quesadilla.
Waffles or Pancakes.
Seriously, use the same recipe for both! And just decide when your making them which way your going to go, if its going to be waffles this week or pancakes. Top them with some fresh or frozen fruit and some greek yogurt instead of syrup to make it a little more filling and healthy.
If your making pancakes, a couple ways to get the cooking done faster! put the batter in muffin tins (regular size or mini, add in some fruit or chocolate chips!) or pour the whole thing into a cookie sheet and bake for 20 minutes. Then your not standing there flipping pancakes for 20 minutes!
GET THE RECIPE HERE

French Toast
This is like actual french toast. I'll give you a recipe, but i seriously just whisk eggs and cinnamon together and then fry them up, lay them on a cookie sheet to cool and freeze and then bag! On the morning of, rewarm in the toaster. And just like the waffles/pancakes serve it with fruit and greek yogurt on top. Want a recipe?
Baked Oatmeal Cups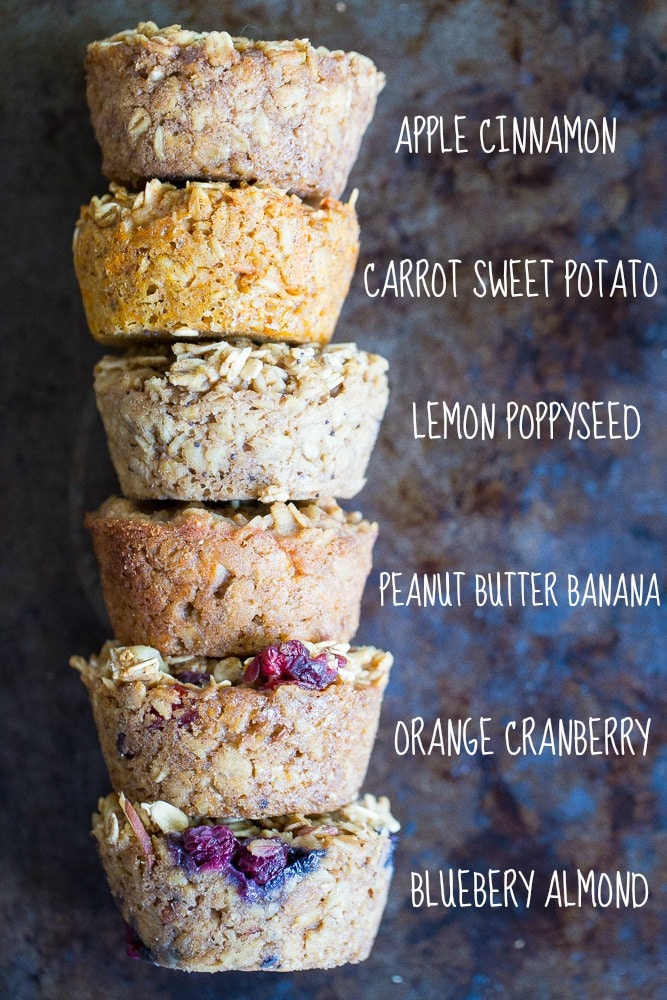 This one is just like eating oatmeal, except in the form of a muffin! Mix up your 'filling' ideas. Use strawberries, blueberries, apples (seriously any fruit) or add nuts/chocolate chips.
Breakfast Sandwiches
For this one, to make it simpler, mix up your egg, and them bake in in a 9×13 pan and cut it into squares! massive time saver! And you can add all kinds of veggies/meat into it to just like the breakfast muffins if you want.
Another thing to do, is to bake up breakfast suasage patties at the same time and add that to the english muffin when your assembling them. Also if your not a fan of english muffins, or to just switch it up, use crossiants, buns, bagels or even just bread when assembling them.
And there you have it! We cycle through these recipes, with different variation every time I make them so it doesn't get super redundant.
So to recap:
1.Keep it simple!! Make 2 recipes a week, make enough so each gets 2-3 meals out of it. (so how much depends on how many kids you have) Alternate those recipes with adding in a toast or cereal day.
2. Remember to add in your quick convience foods! Yogurts, fruits, cottage cheese, pepperoni or dried sausages. Or bake up some bacon and sausage (or boil eggs in your instant pot) in your oven while your doing your prep and serve those on the side to.
By doing these 2 simple things you'll be able to remake your breakfasts without spending alot of time in the kitchen or being overwhelmed!